PRESS RELEASE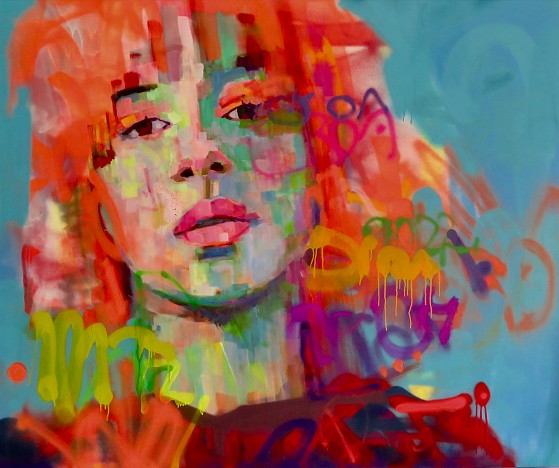 KILMANY-JO LIVERSAGE | ILLUMINA23
Jan 27 – Feb 25, 2023
VIEW PORTFOLIO | REQUEST PRICELIST | +44 (0) 20 7590 9991
Everard Read London presents an exhibition of new paintings by South African artist, Kilmany-Jo Liversage. Taking inspiration from pop culture, fashion and a plethora of social media platforms, this new body of work was made over the past year and a half in the artist's sprawling Cape Town studio.
Spray paint is Liversage's medium of choice which she assuredly deploys, along with acrylics, to challenge the traditional delineations between fine art and urban or street art culture. Fusing Renaissance portraiture with a strident urban sensibility, what emerges from her studio are penetrating portraits and unruly floral still lifes in a psychedelic palette of luminous pinks, blues and fluorescent yellows and oranges. Liversage's focus is on "the here and now, on inner-city alleyways and sites of both decay and gentrification, where the tag, squiggle and scrawl of graffiti carry as much gravitas and value as the high art of her forebears."*
Although Liversage has executed numerous murals in various cities around the world, including a collaborative large-scale canvas which was exhibited at the Venice Biennale in 2013, she does not consider herself a street artist. Operating within the framework of 'urban contemporary', Liversage may have incorporated aspects of street art into her practice - considerable scale, a predilection for working outside and the custom of tagging - but she trained as a fine artist and painting is her committed pursuit.
Liversage remains faithful to Renaissance standards of portraiture, working within the established canon and taking into account the very same compositional considerations as the Old Masters. But her work embraces the spontaneity of mark-making and the confidence of her spraying and dripping veers far outside traditional patriarchal lines.
"I feel strongly about the role women play in our society and am interested in portraying the strength and Femme fatalism of women in my portraits and still-lifes", says Liversage. "The role of matriarch has gained impetus through the digital-age. Empowerment, transformation and a greater emphasis on gender-equality has created a global shift in how femininity is perceived and how contemporary women are portrayed."
With a list of achievements that include a Sasol New Signatures Award in 2000 and a UNESCO bursary in 2005, as well as an artists' residency in Colombia, Liversage has had the opportunity to explore and interpret the concept of street art in a distinctive and original way.
Liversage lives and works in Cape Town, South Africa. Her work is included in several public and private collections in South Africa and around the world.
* Hazel Friedman , February 2020, essay entitled The Art of Discontent for the exhibition Against Interpretation, Everard Read London, June 2020