PRESS RELEASE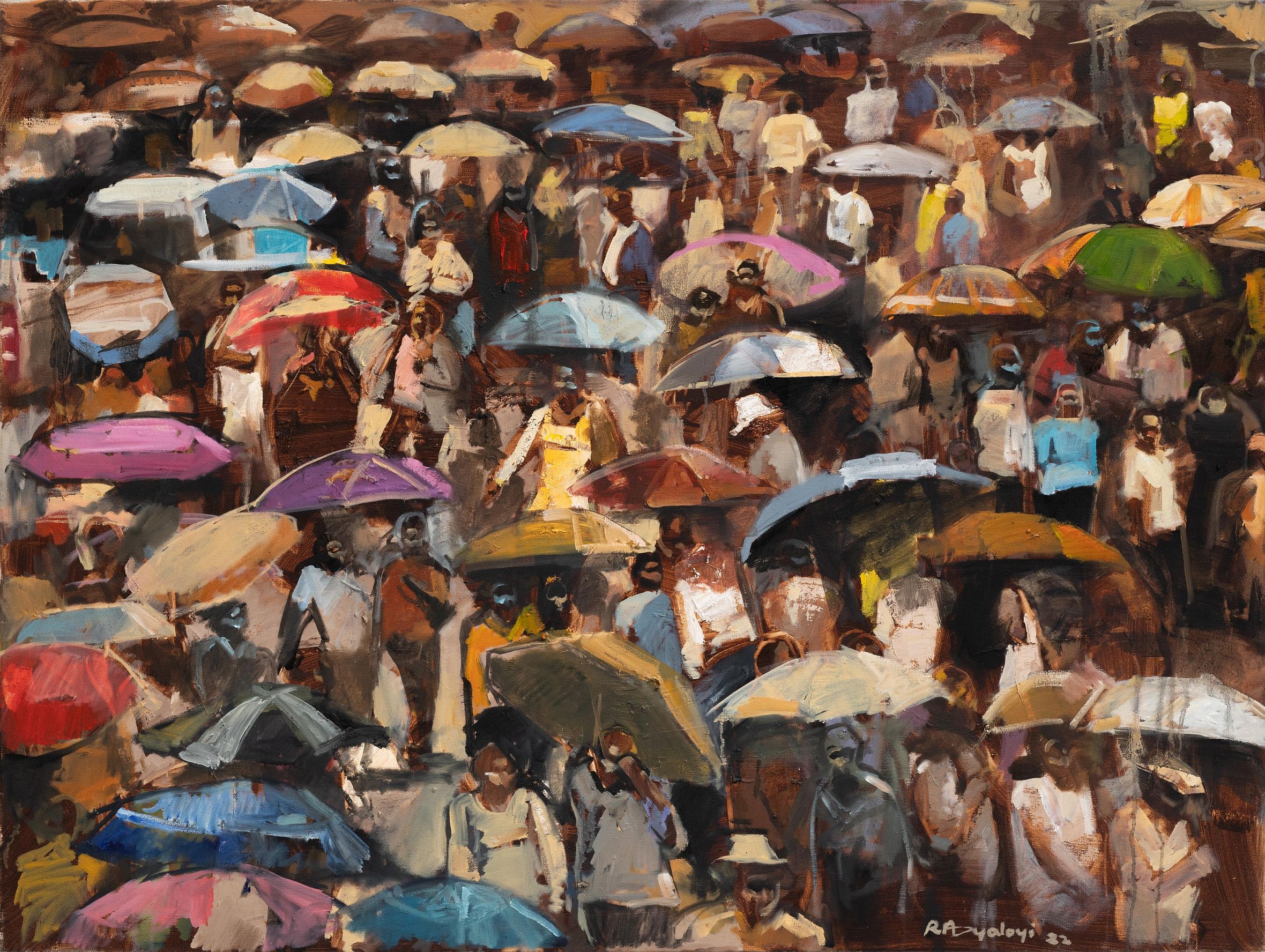 RICKY DYALOYI | UKUPHUMA KWE LANGA | LIGHT USHERING IN THE DAWN OF A NEW DAY
Oct 7 – Oct 27, 2022
RICKY DYALOYI
UKUPHUMA KWE LANGA | LIGHT USHERING IN THE DAWN OF A NEW DAY
VIEW PORTFOLIO | REQUEST THE PRICE LIST | +44 (0) 20 7590 9991
For Ricky Dyaloyi's first solo exhibition at Everard Read London, the South African artist has assembled a collection of paintings that astutely and tenderly record the life of his surrounding community. Dyaloyi captures the energy of crowds and a vivid sense of the individuals within those multitudes, with their distinctive posture and demeanour, expressed with the most minimal of gestures.
In his renderings of his fellow South Africans - ordinary citizens going about their daily lives - Dyaloyi gives us insight into their hopes, dreams, fears and longings – what it is to be human. His work reflects the artist's deep empathy with humanity and encourages us to single out fellow humans in the crowd; to experience our own empathy.
These are not faceless, nameless masses, but a collection of individuals thrown together by fate. Dyaloyi directly invites us to contemplate what might have brought them together and thereby mine our own sense of collective human experience, memory and history – remembering where we have come from and questioning where we are going to.
Dyaloyi's imagery and practice developed in the early 1990s, around the time of South Africa's first democratic elections. His oeuvre fits into a broader genre of South African painting, which has its roots in the Thupelo Workshop - a programme for artists, established in 1985, that fostered the exchange of ideas, experiences, techniques and disciplines.
Everard Read Gallery has represented Dyaloyi for almost 25 years and this is his ninth solo exhibition with the group of galleries. The Gallery presented his work at 1:54 Contemporary African Art Fair in London in 2015 and his work was spotlighted by the fair in 2018 by Spier Arts Trust.
A monograph on Dyaloyi was published by Everard Read in 2016 and an essay on the artist is included in Ashraf Jamal's In The World: Essays on Contemporary South African Art, published in 2017.