PRESS RELEASE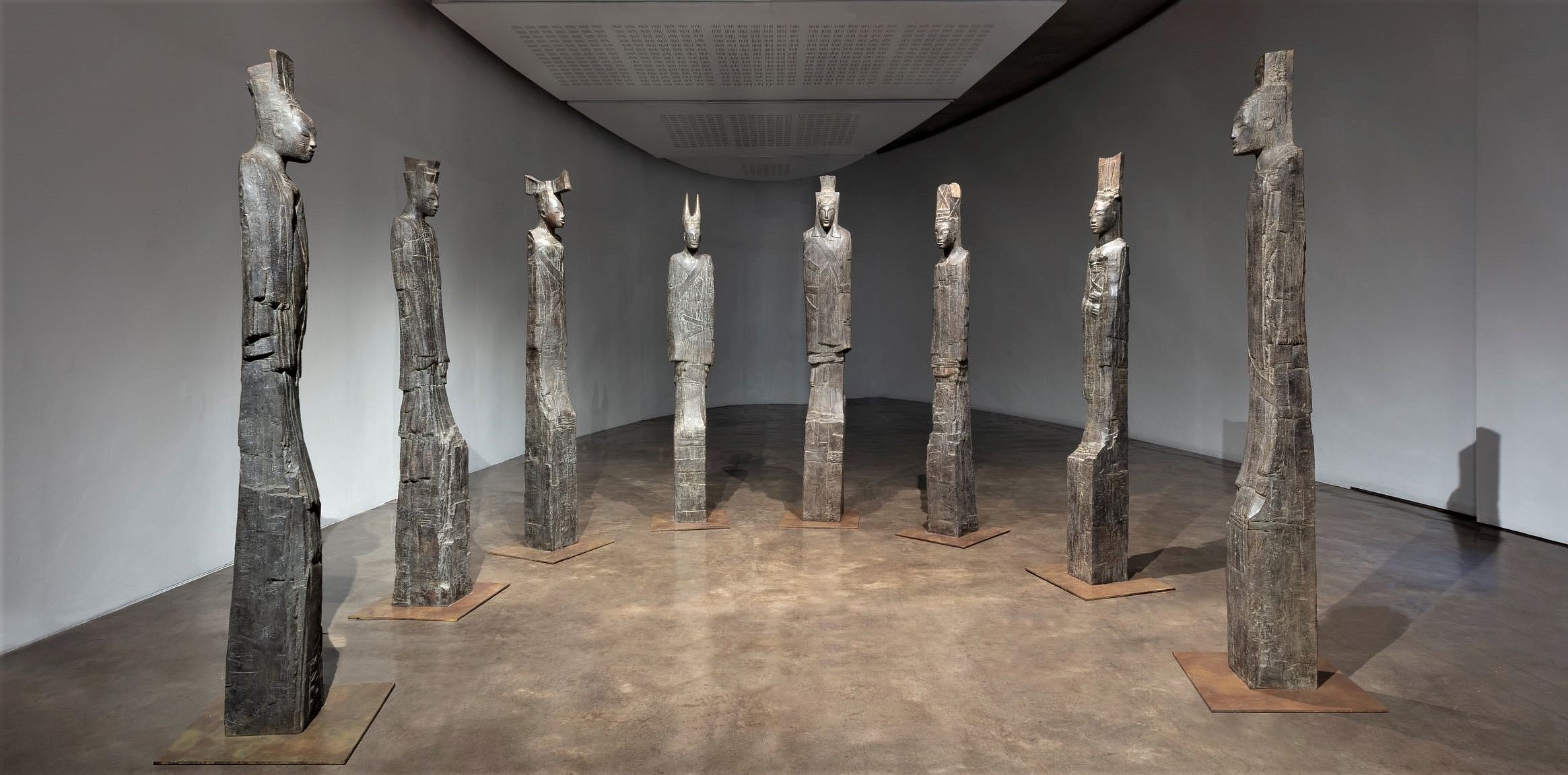 DEBORAH BELL - SENTINELS (2020)
Sep 3 – Oct 3, 2020
DEBORAH BELL - SENTINELS (2020)
3 September - 3 October 2020
Everard Read London presents Sentinels (2020), a major exhibition of new monumental sculptures as well as new paintings, created over the past two years by Deborah Bell, one of South Africa's most eminent and critically acclaimed artists.
At the heart of the exhibition are eight towering, 2.5-metre-high sentinel figures. Gathered in a semi-circular formation they create what is unmistakably a votive space.
Cast in bronze, their origins trace back to the series of nine sentinels the artist made in 2003. Those sentinels drew some of their inspiration from the columnar figures and statuary which Bell was looking at during this period; they became like guardians, observers occupying a place of stillness and reflection.
Bell views the new Sentinels (2020) as quite different from the first and original set: "They grow out of the clay as if they are growing out of rock. They are elemental - part of the earth. For the last few years I have explored the materiality of flesh and its connection to our earth. I'm aware that so many cultures in their religions and myths talk about the creation of man from clay. I work in clay to create or reveal a human figure, but I also sense that clay knows how to become rock, and that clay itself is formed from the weathering of rock. This cycling of rebirth interests me - it touches some deep knowing that I am unable to explain." Deborah Bell explains further in the below video.
This exhibition was scheduled for May 2020 - before the COVID-19 virus changed all our lives. It is striking to us how poignant these sentinels became in the context of an impending universal crisis and a time of isolation and separation from so much of what makes us human. Deborah Bell's Sentinels (2020) were conceived as gatekeepers for humanity – holding the centre in a chaotic world – but during the many months of their creation, Bell never imagined the scale of the tsunami from which we might need protection.
Bell is facinated by ancient civilisations and their excavated artefacts. Her work incorporates powerful images and layered visual, symbolic and iconographic references of past and present worlds. In her iconography, the artist draws from a range of cultures - African, Chinese, Egyptian, Greek, early Christian, European - and a range of psychologies and philosophies, particularly the Buddhist preoccupation with stillness and the shedding of attachment and the ego.
In Bell's recent work human figures have embodied the seeker on a journey, often accompanied by lions, hounds, wolves, horses and totemic modes of transport such as boats and chariots.
Bell's artworks convey themes that have evolved through dreams, meditations, altered states, spiritual quests and the process of working. They record her journey into the mysteries of the cosmos – and, like metaphors, like symbols, her works stand for the beings, the presences, the nodes of meaning and association that she has encountered along the way.
View Deborah Bell | Sentinels (2020) at Everard Read London in the video below.
Photography, Liz Whitter