PRESS RELEASE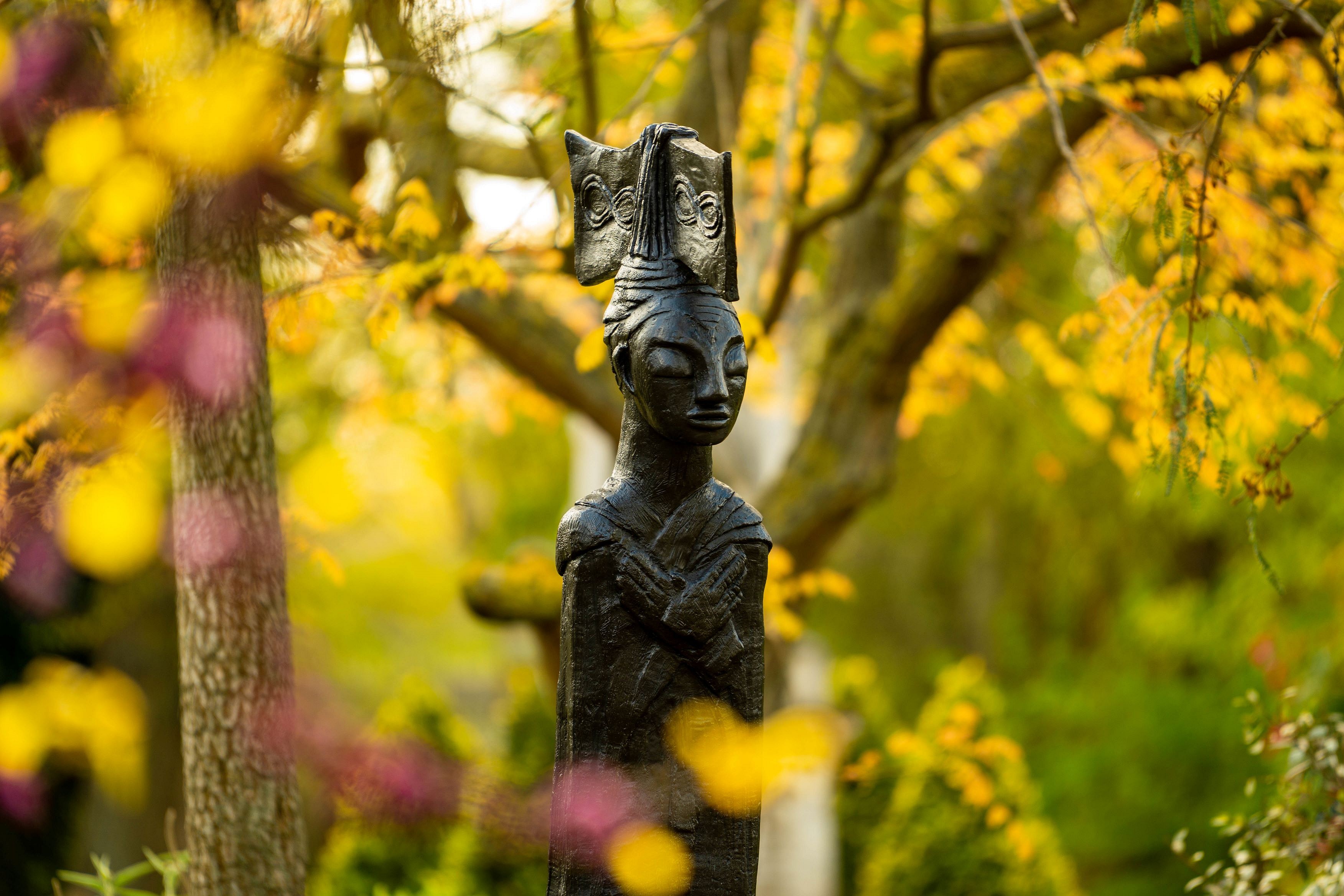 DEBORAH BELL | CHELSEA PHYSIC GARDEN
May 1 – Sep 27, 2023
DEBORAH BELL | SENTINELS (2004) AT LONDON'S HISTORIC CHELSEA PHYSIC GARDEN
May - September 2023
VIEW PORTFOLIO | REQUEST MORE INFORMATION | +44 (0) 20 7590 9991
These commanding figures by acclaimed South African artist, Deborah Bell, are part of a series of nine sentinels that she made 20 years ago. Drawing inspiration from columnar figures and statuary which she was researching during this period, Bell was reminded of Gothic imagery of saints, prophets and kings, of ancient hermae placed at crossings and boundaries to ward off evil. Her sculptures became like guardians; observers, occupying a place of stillness and reflection.
Deborah Bell has long been fascinated by ancient civilisations and their excavated artefacts. Her work incorporates symbolic and iconographic references of past and present worlds. It explores the boundaries between mortality and immortality, matter and spirit, presence and absence, the quotidian and the mythic, the grounded and the transcendent.
ABOUT CHELSEA PHYSIC GARDEN
Sitting on the Thames Embankment, and sheltered by high walls, Chelsea Physic Garden is one of the oldest and most respected botanic gardens in Europe. It is the oldest in London, and only surpassed in age, in England, by Oxford Botanic Garden.
Founded in 1673 by The Worshipful Society of Apothecaries of London for its apprentices to study medicinal plants and their uses, it became one of the most important centres of botany and plant exchange in the world. Chelsea Physic Garden's plant collection is unique in being the only botanic garden collection focused on medicinal, herbal and useful plants.
As an independent charity, the Garden relies on visitors, friends and supporters to help protect and nurture the Garden for future generations.
Open Sunday - Friday, 11am - 5pm (last entry 30 minutes before closing)
66 Royal Hospital Road
Chelsea, London, SW3 4HS
Tel: 020 7352 5646
enquiries@chelseaphysicgarden.co.uk