PRESS RELEASE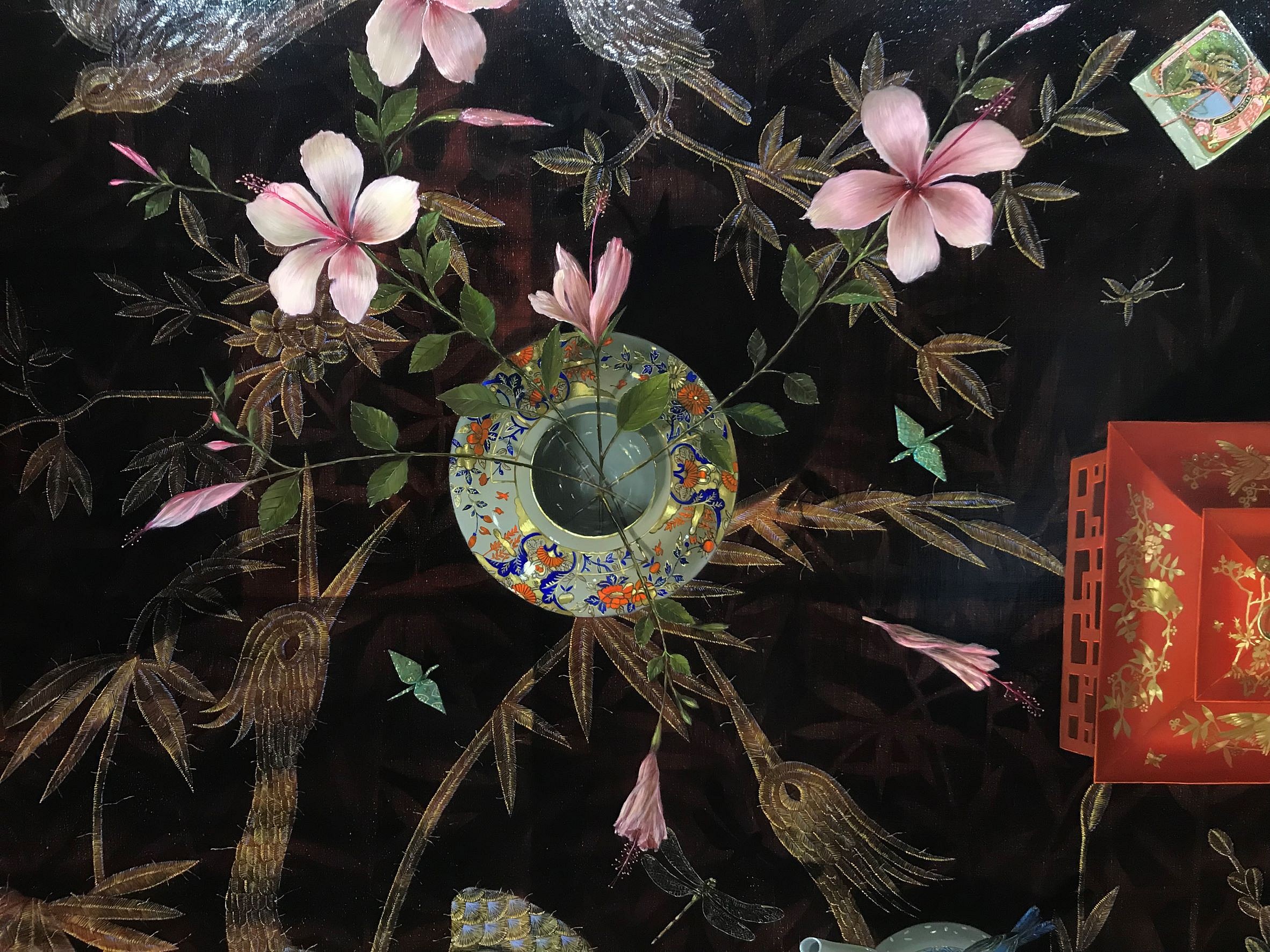 CARYN SCRIMGEOUR | HOPE IS A THING WITH FEATHERS
Nov 4 – Dec 3, 2022
CARYN SCRIMGEOUR | HOPE IS A THING WITH FEATHERS
04 November 2022 - 03 December 2022
VIEW PORTFOLIO | REQUEST PRICES | +44 20 7590 9991
Everard Read is delighted to present an exhibition of new paintings by South African artist, Caryn Scrimgeour. Taking inspiration for its title from the Emily Dickinson poem, this new body of work was made over the past 18 months in the artist's Cape Town studio.
Scrimgeour's paintings are obsessively immaculate – a manifestation of intense attention to detail and an extraordinary command of her palette. Her table settings intrigue and fascinate by juxtaposing fragile and precious curios with commonplace objects, each exquisitely rendered.
Rich in symbolism, her work is reminiscent of still life paintings from the Dutch Golden Age. Scrimgeour uses ephemeral objects – butterflies, petals, a glistening fig – to remind us of our transience and fragility.
The perfectly rendered contours and surfaces of each object can be deceiving, though, as Scrimgeour uses them as both symbols and as more ordinary icons. These more commonplace objects are holders of memory - they prompt us to remember experiences and in so doing to remind us of who we are.
In Scrimgeour's paintings, a burnt match, a length of ribbon and a torn postcard are treated with as much fondness and care as bone-handled knives and delicately patterned plates. They seem to weave together a story. We assume we can piece together parts of Scrimgeour's life from these varied clues, although it is a matter of some difficulty to separate our own associations with objects.
The absence of humans – aside from the artist's ghostly reflection in a spoon or a fish knife – makes these works all the more poignant, as do the unlikely protagonists: the sumptuously embroidered tablecloths, the mismatched china; the silverware alongside disposable chopsticks; the humble matchbox and the lavishly painted jellybean.
Scrimgeour explains further, "this body of work is a deliberate steering away from the all-pervasive social commentary and noisy chaos in search of something that evokes a sense of hopeful reassurance and an affirmation and acceptance of the fragility of life. A recognition of the timeless relevance of lines from old poems, bemusing long held traditions, the sudden joy of a childhood game and the often-painful memories held within seemingly trivial objects are the threads that tentatively connect us. The works are meditations, the letting out of a long-held breath and a reminder to take another. They are labyrinths of intertwined thoughts, riddles to be unravelled but never solved."
Indeed, Scrimgeour's paintings are sublime puzzles, much like our identities – made up of fragments freighted with memories and experience. They are vanitas paintings for our age, their terrible beauty encompassing both the rich complexity of life, as well as its brief and fleeting nature.