PRESS RELEASE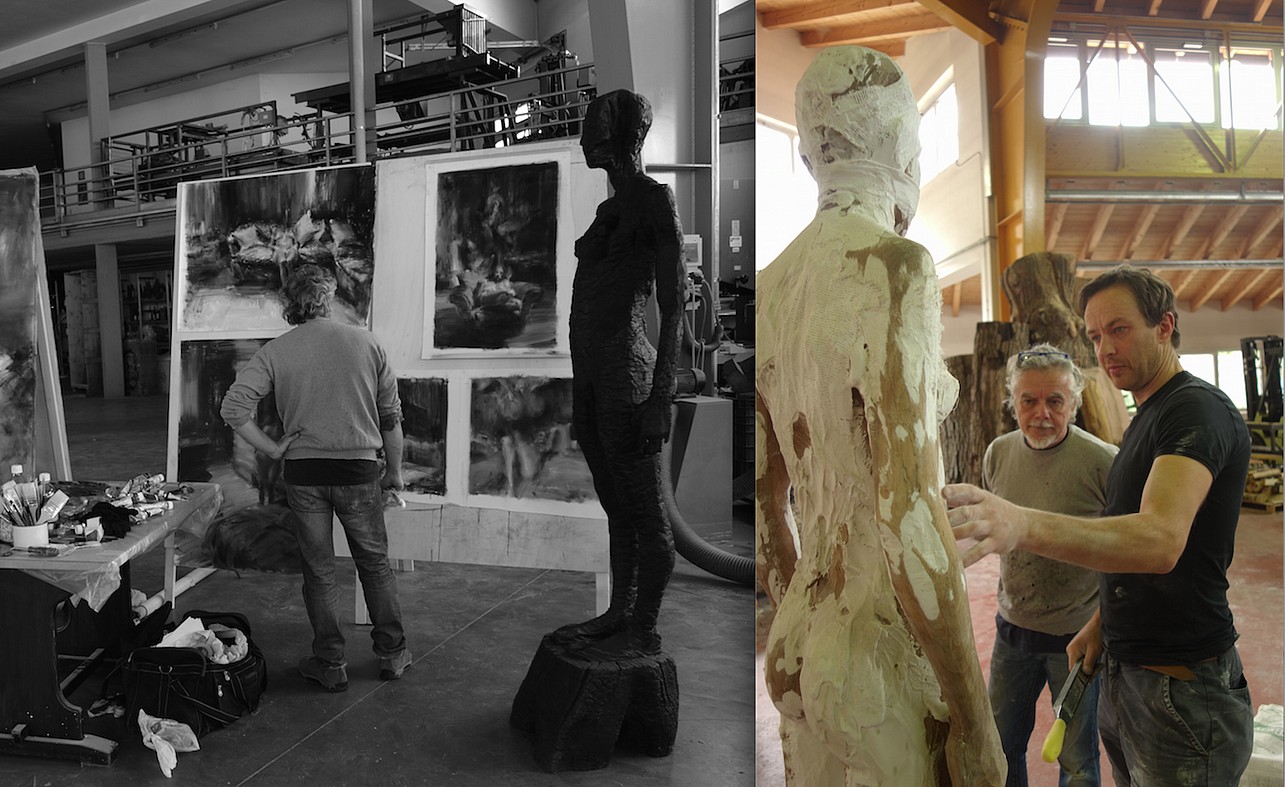 Alessandro Papetti and Aron Demetz
Nov 16 – Dec 17, 2018
Everard Read London presents
ALESSANDRO PAPETTI and ARON DEMETZ
16 November - 17 December 2018
This exhibition of new paintings by Alessandro Papetti and sculpture Aron Demetz marks the first time the artists will present a collaborative show together. Many of the works were made or conceived while working in Demetz's studio in Val Gardena in northern Italy.
Papetti and Demetz share a long-standing fascination with the human figure and indeed the nexus of this collaborative project is the infinitely complex and ambivalent manifestations of the human form.
Alessandro Papetti is one of Italy's foremost contemporary painters. He has exhibited widely for almost 30 years, notably at the Venice Biennale in 2003 and 2011, at major museums in Milan, Paris, Moscow and Tokyo and at galleries around the world.
Papetti's most recognizable works are sweeping, cinematic paintings of industrial archaeology, urban landscapes, portraits and nude studies, frequently painted from a high-angle perspective. A largely self-taught artist, Papetti's influences include Jacopo Robusti Tintoretto, Alberto Giacometti and Francis Bacon.
Aron Demetz has achieved international prominence with exhibitions at the Venice Biennale in 2009, PAC in Milan, MACRO in Rome and the Arp Museum in Rolandseck, Germany.
Demetz uses a traditional South Tyrolean technique of woodcarving, dating back to the 17th century, to explore the possibilities and limitations of wood as a material. He exploits its textures and ability for transformation by deploying a range of innovative techniques including controlled burning, lacerating the wood or applying layers of natural resin. Indeed, his sculptures evoke themes of injury and healing; of metamorphosis.
The stark contrast between the smooth, carved figures and the highly textured, distressed wood surfaces serves as a visual metaphor for this ambivalent relationship between humanity and nature - our coexistence with the natural world and our alienation from it. Through Demetz' craftsmanship, his figures and the material from which they are hewn become an inseparable whole.