PRESS RELEASE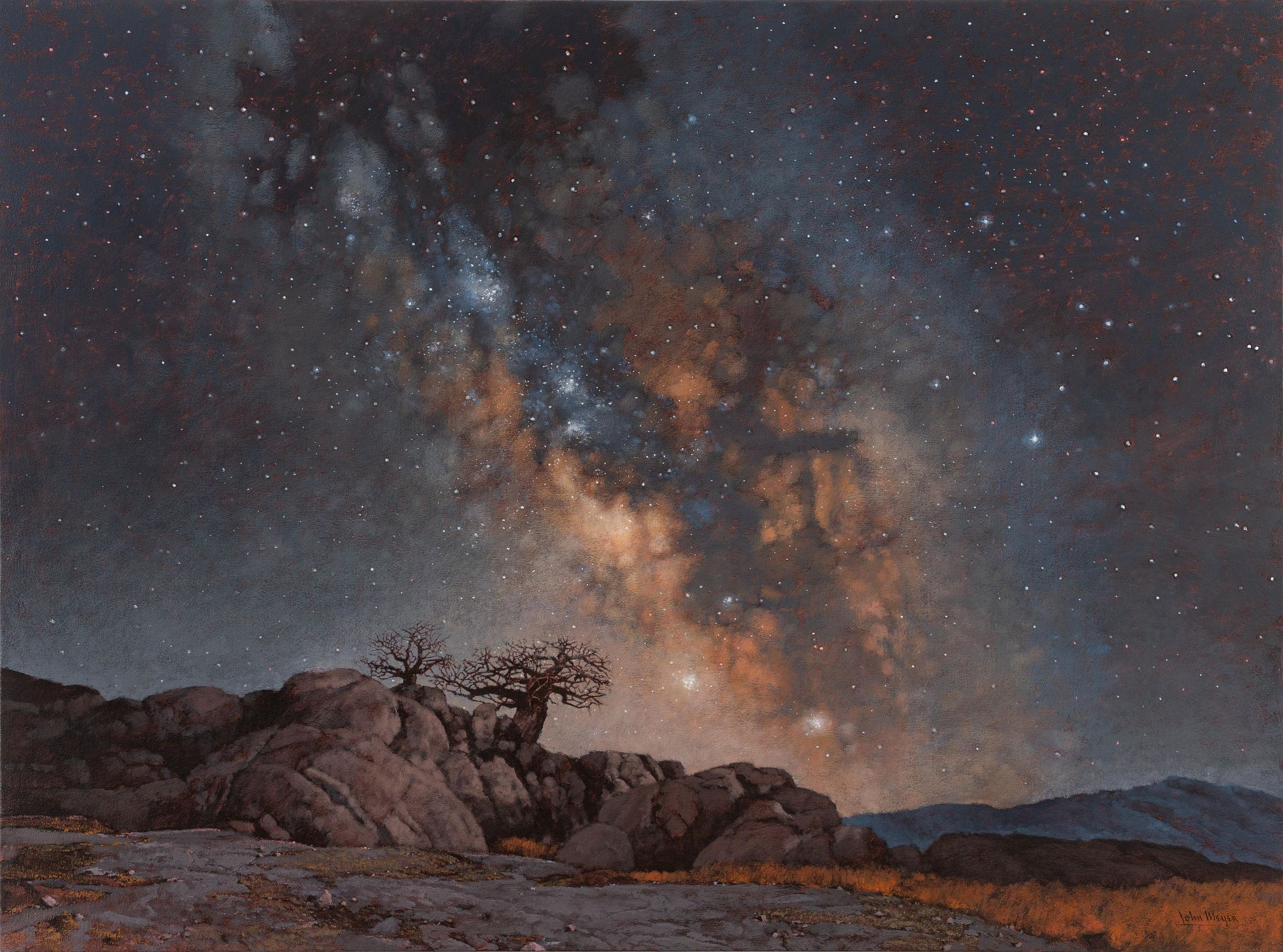 WINTER 2020
Dec 11, 2020 – Feb 15, 2021
WINTER 2020
11 -18 December 2020 | 4 January - 15 February 2021

REQUEST PORTFOLIO | +44 (0) 20 7590 9991

Everard Read London presents a WINTER exhibition of new paintings and sculpture by more than 15 artists from South Africa and the diaspora.
In South Africa's pre-eminent realist painter, John Meyer's new painting entitled Genesis, the artist captures the ephemeral beauty of the night sky with two iconic baobabs as silent witnesses. The wonder and magnitude of the cosmos and stark beauty of the rocky landscape evokes a sense of deep time and provides solace and perspective in times like these.
The exhibition also includes work by celebrated, South African artist, Deborah Bell. In her paintings, human figures have embodied the seeker on a journey, often transported by horses. For Bell, the horse and rider motif is symbolic of body and spirit and over time her horses have grown in scale and become more like resting places in themselves. Their riders have become less protagonists with agency and more like figures present at a greater event - a spark from the divine fire, an individual expression of a far greater mystery.
Acclaimed South Africa sculptor, Dylan Lewis, presents a series of tiny bronze sculptures through which he has distilled the essence of his most recent exhibition CHTHONIOS, scheduled to open at Everard Read London in June 2022. As embodiments of the tensions and complexities of human relationships, these sculptures venture from visceral abstraction and frank eroticism, to bold exuberance and wholesale embracing of the human figure. The creation of these miniatures entailed the compressing of huge sculptural forms and ideas into smaller works which required reworking the form, composition, and texture of each sculpture.
Teresa Kutala Firmino's seemingly playful works are rich in symbolism and metaphor and explore complex issues of gender, identity, cultural heritage, and history. Firmino creates a series of tableaux in which her female forms, often with faces resembling African masks, are the protagonists of her narratives that question the status quo and imagine alternate realities.
Political satire has long been Brett Murray's primary preoccupation and his sculptural works in bronze, steel and marble take aim at the culture wars, the clash between Afrocentrism and Eurocentrism, and the old and the new South Africas. "Poking fun at his country's imperfect transition to democracy has proved more tragic than comic a pastime"* and in his most recent work, Murray turns his attention inward and withdraws to the intimacy of his home. But the political cannot be kept out, it leaks from a multitude of digital screens and his Self Portrait in this exhibition hints at sleepless nights.