BIOGRAPHY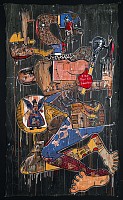 BLESSING NGOBENI

(b. 1985, Tzaneen, Limpopo, South Africa)

Blessing Ngobeni's personal story is one of triumph over adversity. He left his home for the big city of eGoli (Johannesburg) aged ten, fell in with a bad crowd and was soon involved in crime. Five years later he was arrested for robbery and spent close to six years in prison. While incarcerated, Ngobeni took stock of his life and took steps to alter its trajectory. He started studying his matric and was exposed to the Tsoga (Wake Up) Arts Project. With the help of warders and two particular friends who brought him art materials, he began to pursue his art seriously, with impressive results.

Fuelled by the social injustices of post-Apartheid South Africa, Blessing Ngobeni's large-scale mixed media paintings serve as scathing condemnation of the country's political elite, and can be read as a direct attack on the structures of power. Borrowing from the language of Surrealism, the anarchy of Dada and the figurative violence of Neo-Expressionism, Ngobeni's paintings are characterized by obsessive mark making and littered with overt political references.

Ngobeni's large mixed-media canvases incorporate a range of found objects and waste materials, including magazine cuttings and found cardboard canvases. The materials themselves are a comment on the difficulty young artists experience trying to break into the art world without the financial backing that enables them to secure even basic materials. They are also deliberately selected for their content; magazine cuttings are layered to create Ngobeni's textured and powerful works and they often feature the work of artists who have influenced the artist both conceptually and aesthetically.


SELECTED EXHIBITIONS

2019
Southern Aspect - A Group Exhibition, Everard Read, London, UK

2018

Blessing Ngobeni: A Note from Error, Everard Read Gallery, London, UK
Enemy of Foe, CIRCA Gallery, Cape Town, South Africa
2017
Masked Reality, CIRCA Gallery, Johannesburg, South Africa

2016
Summer Exhibition, Everard Read London, UK
Everard Read Gallery, Johannesburg, South Africa
2015
As If You Care, solo exhibition Gallery MOMO, Cape Town
2014
In His State of Madness, Gallery MOMO, Johannesburg, South Africa
2013
Works on Paper, Gallery MOMO, Johannesburg, South Africa
2012
On This Earth, Gallery MOMO, Johannesburg, South Africa
I Made In Africa, Group Show, Africa Day, Sandton Gallery, Johannesburg, South Africa
Exit Emergency, Reinhold Cassier Award, Bag Factory, Johannesburg, South Africa
2011
SANNA Africa Festival, Group Show, Zoo Lake, Johannesburg, South Africa
Wasted, Unity Art Gallery, Johannesburg, South Africa
2010
Collaboration, Unity Art Gallery, Johannesburg, South Africa

2009
Untitled, Unity Art Gallery, Johannesburg, South Africa
2007
Untitled, Museum Africa, Johannesburg, South Africa
2006
Taxi Outreach Project, David Krut Johannesburg, South Africa
Taxi Outreach Project, Group Show, Michaelis Central Library Johannesburg, South Africa
Taxi Outreach Project, Group Show, Diepkloof Library Johannesburg, South Africa

RESIDENCIES
Cleveland Creative Fusion, Ohio, U.S.A.
Headlands Centre For Art, San Francisco, U.S.A.
Reinhold Cassier Award, Bag factory, Johannesburg, South Africa

MEDIA NOMINATIONS

2013
200 Young South Africans (Mail & Guardian)
Artwork, This Political Song, printed as cover for of "Rethinking the South African Crisis: Nationalism, Populism, Hegemon, by by Gillian Hart

COLLECTIONS
National Art Gallery of South Africa in Cape Town
AWARDS
2020
The Standard Bank Young Artist for Visual Arts, South Africa